I love creating courses for
Pluralsight
and I often get asked how I create a course.
So, in this post I answer that question.
I'm planning on doing a lot more courses this year and beyond, which will also be available on my own website:
azurebarry.com
How does the Pluralsight process work?
I love teaching, so I decided to try teach in an online way, that could reach many students.
This takes you through a whole process, in which you are vetted to be a Pluralsight author. This includes creating a 10 minute audition video about a topic that you choose yourself. This shows Pluralsight that you are able to teach a concept well and that you can produce a decent video.
After that, I was in and I got to propose my first course. This goes through an approval process as Pluralsight carefully plans their content requirements. When this was approved, I was off. Ready for course production!
How does creating a course work?
Pluralsight authors create their courses themselves. Everything you see is created by the author, the slides, the recordings of demos, the audio - everything. The teams at Pluralsight are great in enhancing the quality of all of this by reviewing it and doing some post-production, but this is usually minimal.
So how does it work?
First of all, creating a course takes planning. What are you trying to teach? What is the story line that will help provide context for students? What topics will you address? How do you split this up into meaningful modules and clips?
You should do this planning when you propose a course, as in a course proposal you indicate what the story and outline of the course will be and estimate how long the course will be.
When I have the overall story, I start creating modules. The first module of a course is usually an introduction one, in which I lay out the context of the topics. I usually create this at the very last moment, when all other modules are created. I do this because I usually come to new insights throughout creating the course, and those should be reflected in the first module as well.
Then, it's creation time! I always start off with creating the demos. I create what I'm going to teach and set it up to be recorded.
Next, I create the slides to tell the story around the demos.
After that, it's time to create my script. I always write down everything that I'm going to say. For the slides and for the demos. I've tried to "wing it" on the fly, but I just end up forgetting to mention important things or not telling the story that I want.
All of this: creating the slides, text and the demos are my creative process, the rest of the steps is the "work".
Now it's time to record
To record anything on the screen, like slides and demos, I use
Camtasia
. There are other options for Pluralsight authors, but Camtasia is good. It took me some time to get the hang of it, but I've learned to love it and I'm very productive with it.
I record going through the slides, with no audio. And I record the demos, also with no audio. I find recording demos very tricky, as I have to do it right. So this usually requires many takes :-)
Next, I record the audio. Basically, I read out the script. The trick is to do this in a compelling and clear way, it shouldn't be obvious to the students that I'm reading from a script. I think that audio is extremely important. If audio quality or pronunciation is bad, I don't want to watch the course. When I watch Pluralsight courses, I usually play them at 1,5x speed or faster. For this to work, the audio needs to be clear and the pronunciation should be very good.
So I have invested in good audio equipment: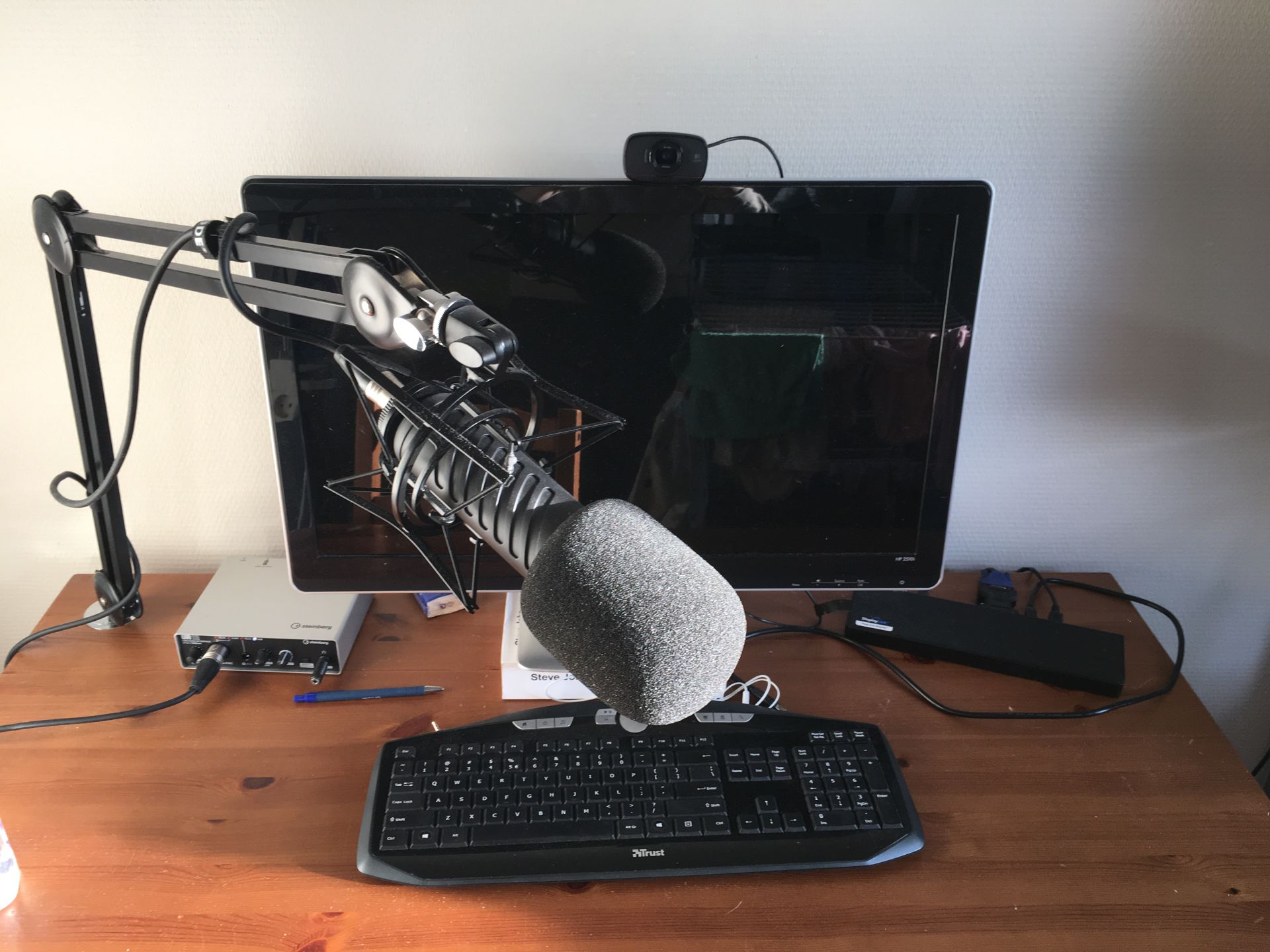 This is my audio recording "studio" in my attic. Here I have a separate space where I'm not disturbed by outside noises or distractions and I can create decent audio. In here I have:
This creates great audio. The attic is actually also our laundry room, which helps reduce the echo of the sound. However, I want to make that go away completely and have even better audio. So for my next courses, I will also uses
the Kaotica Eyeball
which serves as a small studio.
To record the audio, I use
Audacity
, which is a great app for just this. It offers great noise reduction and lots of plugins.
Update: Kaotica Eyeball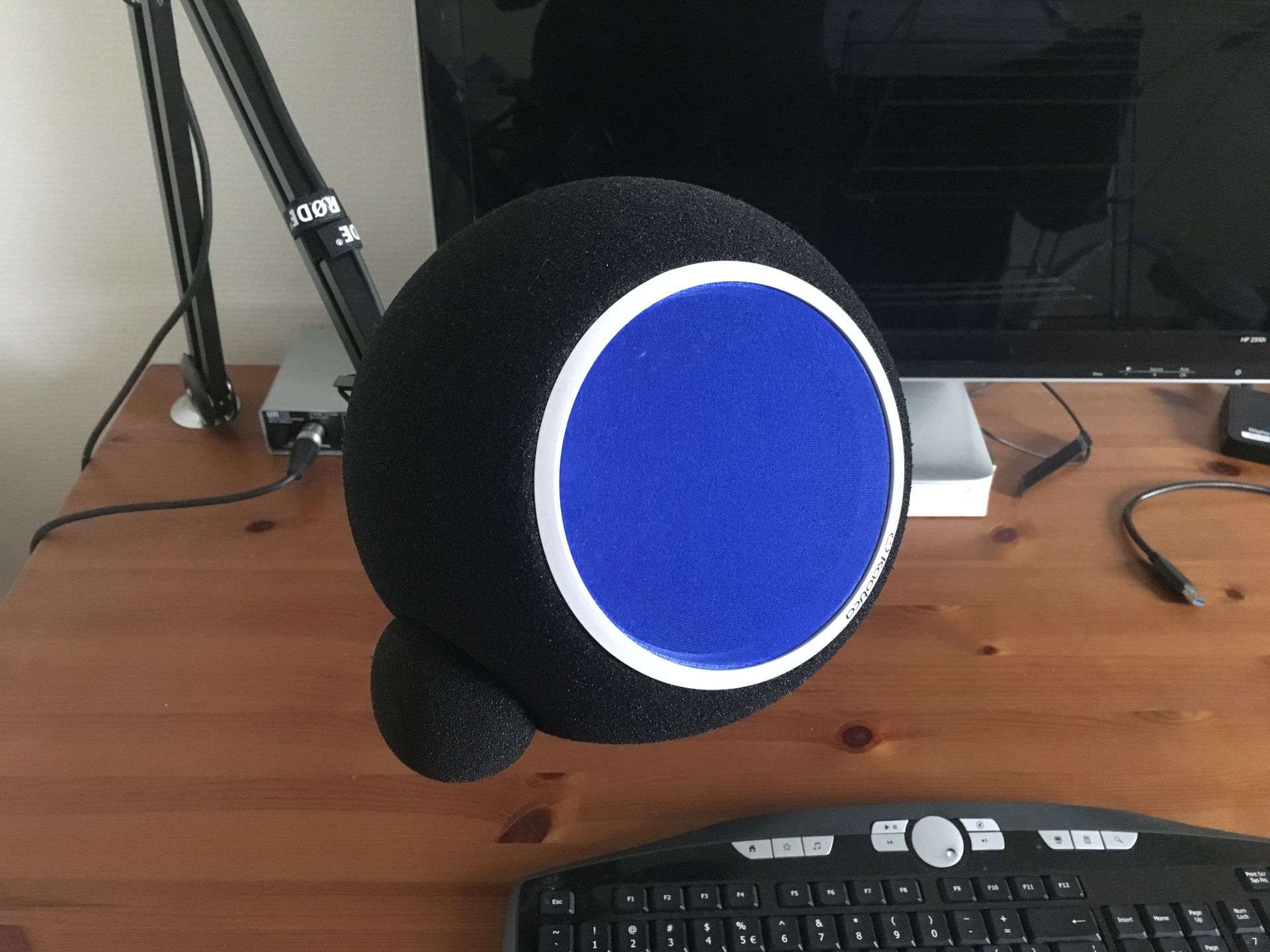 I now have the Kaotica Eyeball. Basically, it is a large, foam ball with a pop filter.
When I tried it, my microphone actually didn't fit as the Kaotica Eyeball expects microphones that use their sides to capture audio. My microphone is front-facing, meaning that it captures audio from the top. So I've just cut a new hole in the eyeball and stuffed the original hole with the foam that I've cut out. It feels a bit weird to cut into such a relatively expensive device, but the results are good. I like how it sounds. It really helps.
Stitching it all together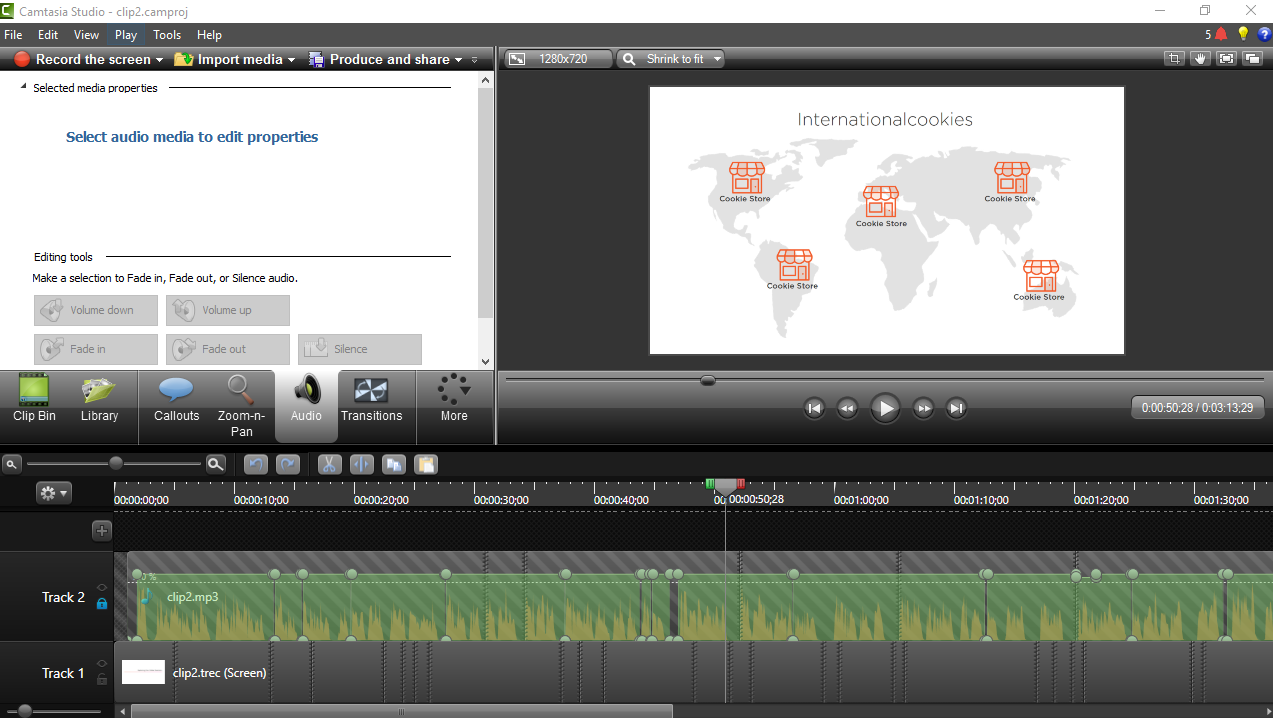 When I have all the audio and video, I start stitching the two together. I use Camtasia for this. This is just work, no creativity involved. When this is done, I use Camtasia to produce MP4 clips and I put those in a DropBox folder that I share with my Pluralsight editor.
Review
After that, I just let my Pluralsight editor know that I'm done with a module and he will send it off to be reviewed. This usually takes just a couple of days and often I continue to work on my next module. The reviews are really good. My content is reviewed by my editor, by a peer author (that is specially selected and qualified to do reviews) and by Pluralsight QA engineers.
Review results that come back are always useful. They range from "you've made a spelling mistake" to "did you mean to say unicorn?" to "I think that doesn't work that way". Luckily, I usually have minimal feedback.
Get it published
When I've done this for all of the modules, I'm done and the course can be published. My Pluralsight editor takes care of all of this and coordinates with the publishing team, QA team and marketing to get it done. And that's it! When all of the modules are done, publishing usually takes a week or so, depending on how many courses are in the queue to be published. The Pluralsight teams are great!
I love it when my course is freshly published and I see that people are actually watching it. It's great to get feedback from students that were actually helped by my course. That is why I do this.
What about getting paid?
I regularly get asked about the payment model of Pluralsight, so let me tell you how it works:
Whenever my course proposal is approved, I sign a contract with Pluralsight that also includes my compensation. Usually this includes a course completion fee and a percentage of royalty payment. The figures for these vary wildly based on your status as an author, the course and your own preferences.
When the course is published, you can track its performance in the Pluralsight analytics portal. Here you can see how many people visited the course and how many hours they saw of the course. There are also more advanced reports, in which you can see which modules are watched the most and what the behavior of students is (they start with module x and end with module y).
So what about getting paid? How much is it?
The answer is: it depends :-) It depends on how well your course does and what royalty percentage you have agreed on with Pluralsight. And I'm just not going to tell you what I make from it :-) If your courses do well and you can fill your library with enough content (10+ courses), you can earn a decent living.
Created with