I'm very excited about my series of Pluralsight courses. It's a series of 3 courses about Cloud Design Patterns.
Design patterns are best practice solutions for common software design problems. They provide a template for solutions to problems (that you didn't even know you had).
These courses will help you to build applications according to best practice solutions. The design patterns are very applicable for applications that run in the cloud or are distributed in nature, but they often also apply to on-premises applications.
In the series, I cover these Design Patterns:

I explain all of the patterns in a similar structure:
The problem to be solved
The solution to the problem (explanation of the pattern)
Things to consider (when thinking about the pattern)
Usage of the pattern (when to use it and when not to)
Example of the solution
Sometimes, this is a simple demo, demonstrating the pattern. Sometimes, I explain an example of the pattern using slides
Almost always, the demo or example is done using services in Microsoft Azure. Hence, the course names; Cloud Design Patterns for Azure. However, the pattern itself is vendor and technology agnostic
These are the courses:
Here is the promo video for the latest one (Data Management and Performance):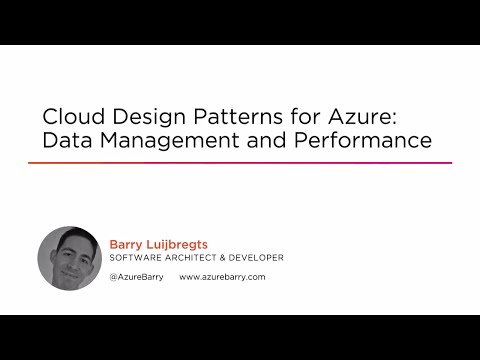 I really hope that you'll enjoy these courses and find them useful.